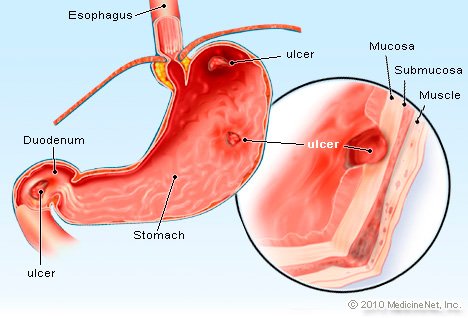 INTRODUCTION: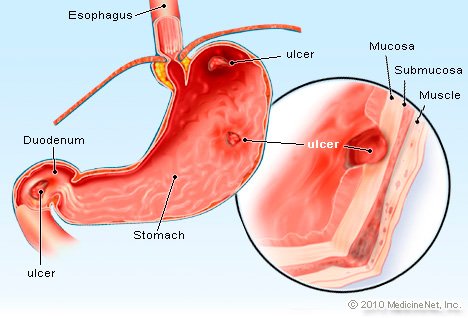 Peptic ulcer disease has become a very common condition in our environment, especially in this time of extreme mental, physical and emotional stress in everything around us. also, a time when family, domestic and in particular job demands keeps us almost constantly on the move. A time too, when life style challenges are increasingly leaving people with minimal choices in terms of foods, drinks, societal values and sanity, peptic ulcer remains a threat to good health and healthy leaving.
WHAT IS PEPTIC ULCER DISEASE?
It is a disease condition involving the inflammation and or erosion of the mucous membrane (inner walls) of the stomach and or the immediate parts of its associated organs: the oesophagus and the duodenum. this erosion is usually associated with high acidity in the affected parts.
WHAT ARE THE SYMPTOMS?
Because of the consistently common complaints over the years across the world, the expression "HEART BURN" found itself into the medical lexicon. heart burn is the burning sensation experienced in the upper abdomen. indeed, the cardinal symptom is about pain in the abdomen. Other symptoms include: Loss of appetite, excessive stomach gas, easy fullness with flatulence, nausea and sometimes vomiting.
WHAT ARE THE CAUSES?
Often, the causes may never be known. However, ulcer as it is commonly called can run in the family. Infrequent, irregular meals including starvation (fasting) are recognized causes. Some medicines especially strong pain killers like asprin, feldene and ibrufen can trigger it also. others include alcohol, cigarette, excessive caffeine, some contraceptives, hormonal therapies and increasingly, stress.
CAN ULCER BE PREVENTED?
If the cause is not hereditary, yes, especially if you understand your system and avoid those known causes. Eat regularly, Avoid alcohol, kola-nuts, spices and smoking. Remain tranquil always. Tame your stress.
CAN ULCER BE CURED?
Yes. Most ulcers diagnosed early and treated early can be cured. Treatment will always include adjustment in some personal habits as already seen. Some ulcers are recalcitrant and very difficult to treat, so run very chronic courses.
ARE ULCERS ALWAYS A SIMPLE CONDITION?
No. Ulcers can be very mild and respond to medications. Sometimes they can be very severe, complicated, difficult to treat and occasionally leading to perforation. this can cause death except an urgent surgery is done.
CONCLUSION:
Report every unexplained abdominal discomfort to your doctor. Avoid medications not prescribed by the doctor. Fret less, quarrel less, allow minimal anger, work as well as rest, observe your leave, ensure to eat regularly and eat right by discovering what is right for you.